About Us
About us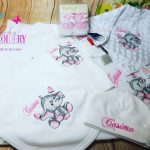 Hello and welcome to jacks embroidery .
PLEASE NOTE WE ARE AWAY FROM 15TH OCTOBER UNTIL 31ST OCTOBER , ORDERS RECEIVED DURING THIS TIME WILL BE STITCHED ONCE WE GET BACK
THANK YOU
My name is Jackie and I started Jacks embroidery in 2012
Although  a small business which is run by myself, I offer my customers high quality  personalised embroidered gifts at affordable prices.
From Personalised Teddies and ragdolls to bibs and blankets there are lots to choose from and will come embroidered with your details of choice
TEMPLATES
Templates are sent before stitching and i ask these are checked and approved before i stitch as i CAN NOT alter items once stitched.
There are 2 payment options
1 Paypal … please select this option if you want to pay by card or have a paypal account .
2 Bank Transfer … if you have internet banking .
Items wont be stitched until payment is received.
SHIPPING
Items are shipped with tracking via my Hermes which takes around 3 days from leaving me and you will receive tracking details.
I have a large number of followers on Facebook and have some great reviews on there ,
http://www.facebook.com/jacks.embroidery
If you have any questions about any of the items listed on my website , please feel free to get in touch via the contact us page