About Us
About us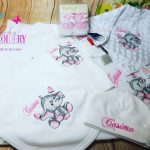 Hello and welcome to jacks embroidery .
My name is Jackie and I started Jacks embroidery in 2012
From Personalised Teddies and ragdolls to bibs and blankets there are lots to choose from and will come embroidered with your details of choice.
We aim to stitch items within a couple of days of order and send out the following day via Evri , items take 3-4 days from leaving us and you will receive tracking,
We would be grateful if after you have received your order you can leave us a review on our Facebook page or an item review on our website , this helps potential customers find us
TEMPLATES
Templates are sent before stitching and I ask these are checked and approved before I stitch as I CAN NOT alter items once stitched.
There are 2 payment options
1 Paypal … please select this option if you want to pay by card or have a Paypal account .
2 Bank Transfer … if you have internet banking .
Ite
I have a large number of followers on Facebook and have some great reviews on there ,
http://www.facebook.com/jacks.embroidery