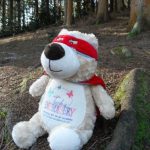 Welcome to the First Jack's Embroidery blog post.
Following a very busy Christmas and New Year things are still going well here at http://www.jacksembroidery.co.uk 
This is our Fifth year and one of our favourite things is to receive pictures of our very happy customers https://www.jacksembroidery.co.uk/happy-customers/
We Personalise Teddies , blankets, bib and babygro sets and many other items, have a look thru our website to find the Perfect Personalised Gift for any Occasion.
We do send templates before we stitch and items are stitched within a couple of days of order .
Paws For Thought – Jack's Travels
Some of you may have seen Jack this week . He is a Hero Bear just starting out on his travels, before he left he wished us a "Happy Valentine's Day"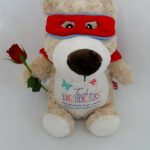 Jack spent the rest of the week sorting out his travel arrangements.
On Saturday, before leaving, he went to his local park and when he met a sad duck he spent a bit of  time cheering him up, this act of kindness coincided with Random Act of Kindness Day on 17th February.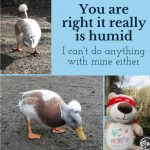 On Monday Jack sent us his first holiday snap and we asked if you could guess "Where in the World" Jack was, we received a few guesses that Jack was in Nepal , Thailand or Siam Park Tenerife
Hopefully Jack will send us some more of his holiday photos over the coming weeks.
Don't Forget to Follow Us on Facebook