Description
WHITE UNICORN
WHITE UNICORN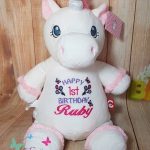 WHITE UNICORN
Our  range of Cubbies are fun loving soft toys that can be personalised to your wishes. They make an ideal gift to celebrate the birth of a new born, birthday celebrations, christenings and more!
All Cubbies can be personalised to your request, and templates are sent for approval before stitching , making a lovely gift for any occasion.
Cubbies are fun loving teddy bears that stand approx 13 inches tall  and come in a range of soft furry animals. With lots to choose from, we are sure to have the right friend for you.
They can be personalised however you desire and for any occasion. Not only are they fun, they are practical too, as they can be also used as a Pyjama case  due to removable stuffing pods.
So pick your favorite, and let the adventure begin!
Please be assured that our bears are CE tested and safe for you and your child.
TEMPLATES SENT BEFORE STITCHING
Checkout our facebook page